Kitchens should work just as well as they look. We design all of our kitchens to last the test of time and to perform. To ensure the best overall outcome, we always insist on taking every kitchen back to studs and all the old layers of flooring up. From there, we can verify the integrity of the framing and add the proper blocking to make cabinet installation a snap. We can check for wood rot caused by leaking appliances and replace and build up as needed to ensure a solid foundation for your new floor. While the walls and ceiling are open, rewiring the full kitchen is a must. Proper lighting and outlet placement is critical to the performance of the final product. More high draw electrical appliances are used in the kitchen than anywhere else in the home.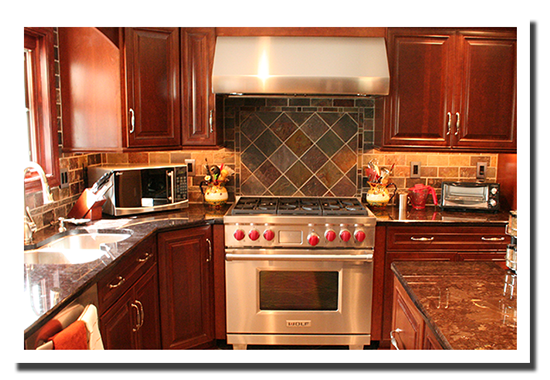 Cabinet selection isnít just about show; we make sure the cabinets go as well. We wonít under any circumstances install cabinets with particle board construction; it just isnít worth the cost savings. All of the cabinets we spec out are made of solid wood fronts and plywood boxes. All of our cabinetry is properly shimmed and fastened to the wall using the highest grade fasteners available. We ensure that when we set that heavy countertop down that your cabinets arenít going to move, or ever move for that matter. Our countertop material of choice is natural granite. Granite outperforms everything else and is extremely durable. Our fabricators will ensure a perfect installation every time.
Almost all of our installations feature tiled backsplashes as well as tiled floors. Durability is a must and between foot traffic and cooking greases, tile is your best choice. All of our floor installations are installed over top of Schluter Ditra matting to ensure a sound and crack free installation for years to come. Proper ventilation in your new kitchen is also a must and sizing your new range hood properly is extremely important, especially when using gas appliances. Proper duct work and termination to the exterior ensures a trouble free installation. We have the experience in all aspects of kitchen renovations to ensure a quality outcome. Typical costs for one of our kitchens, with appliances, is $60,000 and up.