Electrial & Mechanical Installations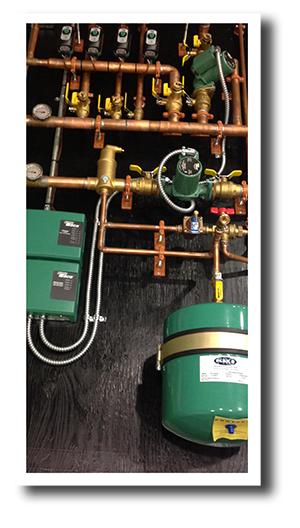 With our emphasis being on "making mechanicals work" we are always involved with improving upon what's already there or designing a better solution for what should really be there. Having a contractor that understands and has built full mechanical systems benefits you greatly. In jurisdictions that allow, or with our plumber, we complete all of our own plumbing work, copper, pex, pvc and, cast iron. We install and modify natural gas and propane systems, black iron as well as Gastite. We design and install all of our own hydronic and radiant floor heat systems, using Burnham, Taco, & Watts products. All jobs are completely wired by us using only the best products from Southwire & Square D. We perform electrical service conversions from aerial to underground as well as home generator installations.

All of our digging is done in house with our own machinery. We do limited duct work and partner with another company for air conditioning. We understand what type of fasteners work best in concrete compared to block, because we work with concrete and block. We understand electrical bonding of gas systems because we install both gas systems and electrical systems. When a hole needs to get drilled through your new marble floor to connect up to your baseboard heat, do you really want a guy who only knows piping to do it? Or would you rather have a guy versed in marble and equipped with the right tools to do it? We have the knowledge, tools, and skill sets to complete all of these tasks. All of our installations are usually part of a larger project and we do not generally take on stand-alone work for these types of jobs.